The Showmans Show 2018
20/02/2019
Here at KES one of our favourite events of the year has just been and gone, The Showmans Show, as ever we were very busy meeting customers new and old. As well as the chance to meet customers it is also a great place to get out and see what is happening in the events world as a whole. Always something interesting and you don't go to many trade shows where racing camels and BMX displays are part of the exhibitors!
This year we used the show to highlight some new products from PCE alongside our Festoon Lighting, electrical distribution boxes and black, Midnight range, of PCE CEE form plugs and sockets.
The new products on offer were very well received. Two new electrical distro solutions, the Ischl which is stackable and offers a variety of ampage outputs and the St Anton, a more compact distribution solution now available with MCB protection.
Both of these distribution units were new this year and seem to be answering some of the issues our customers have been trying to solve.
We also had a new development of the PCE CEE form plug and socket. Known as the Grip Range, the new rubberized grip allows for a better grip in all conditions and improves the safety level of the product. Also available in the midnight range these were very popular at the show as black plugs and sockets work the best for our clients in the event industry.
We also held some competitions while there with a St Anton and a PCE diagnostic plug up for grabs. These were won by Tony Javaid, events organiser and Agostino Fabrizio of Melody Marquees.
Thanks to all those that came by to see us and those we had fun going out to see and we'll be seeing you all again next year. Can't wait!!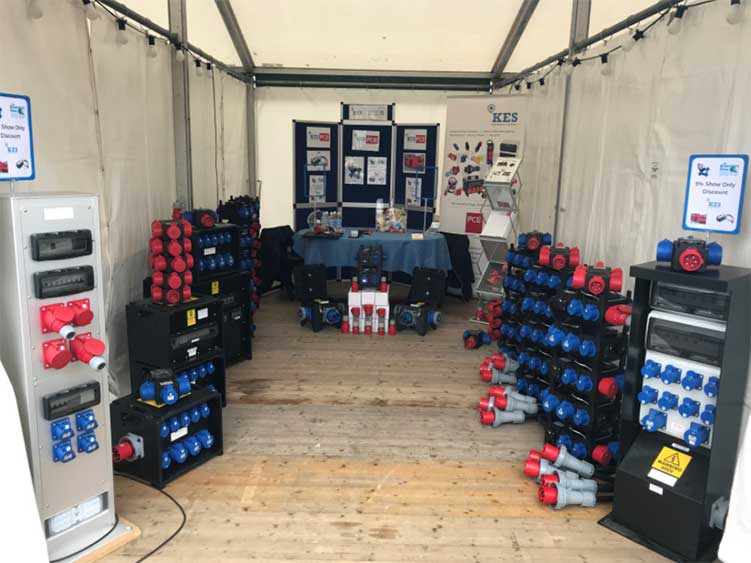 Who We Work With
Get In Touch
Get in touch to place an order or discuss your project with our experts
Call Us 02380 704 703
Email Us sales@kes.co.uk
Need Help Finding A Product?
Try Our Online Search Wizard…